Strike Blazinger's action gameplay currently consists of high-speed forward flying and shooting in the vein of timeless classics like Atari's arcade "Star Wars", Williams' "Blaster", Sega's "Buck Rogers: Planet of Zoom", "Space Harrier", "Galaxy Force", and Taito's "Night Striker". Though we're overflowing with knowledge and passion for the genre - our goal is to do much more: taking it beyond the next level with modern technologies and game design, while engaging the player with a compelling sci-fi mythos and quest. In the moment-to-moment gameplay, new features for movement and attacks set Strike Blazinger distinctly apart from its predecessors such as aiming ability, close-range weapon attacks that can destroy bulletproof obstacles, an energy resource system that balances your destructive output and adds a benefit to running on the ground, boost-dashing to get out of tricky situations, and a method to Impact Deflect or "Parry" oncoming hazards. Each of these maneuvers are meant to be simple-to-learn and satisfying to master, so as not to detract from the fun blast-and-dodge action at the game's core. Our hardware target is 120fps gameplay supporting 1440p 120hz monitors on PC and arcade. The game supports gamepad as well as keyboard/mouse in addition to custom-developed controls for the arcade version. This is just the beginning. As the game is still in a very early phase, additional gameplay mechanics, weapon systems / upgrades, characters, and play styles will be revealed as development progresses!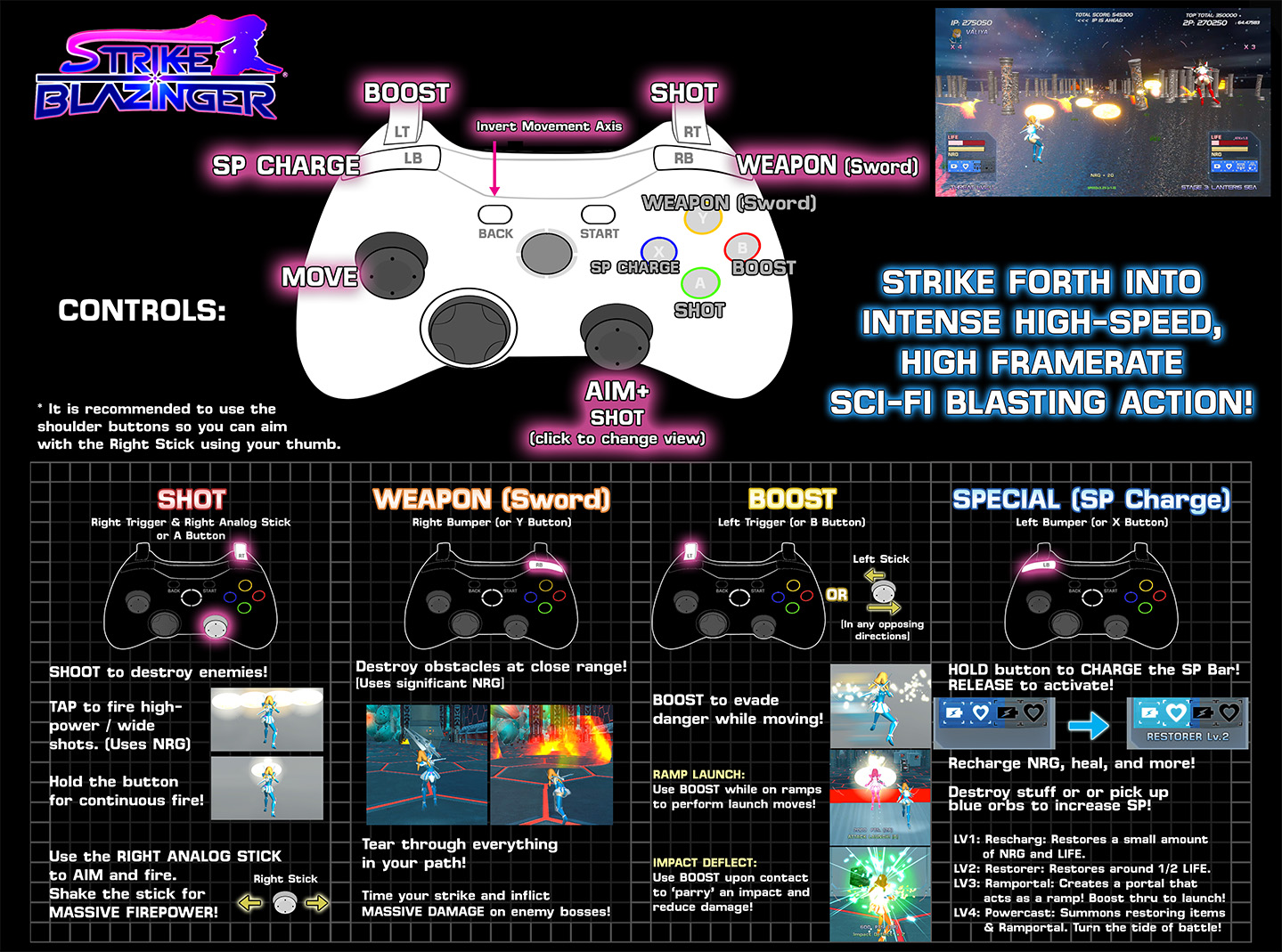 INSTRUCTION CARDS FROM EARLY PROTOTYPE DEMO STATION
---
There are no articles to list here yet.